FASHION DESIGN BY DESIGNERS FOR DESIGNERS
The Other Side of the Fashion Indistry
At Designers Nexus, we are here to help make the design process as "seamless" as possible for fashion designers (we couldn't resist the pun!). We created designersnexus.com to be a central resource for free fashion design templates, fashion illustration, portfolio, & presentation examples, and fashion designer information. All of our free fashion design templates and industry resources are here to save you time, make things easier, teach, and inspire. We love being able to share our knowledge and experience with other fashion designers and hope to make being a fashion designer a little bit easier, because we know it's not always as glamorous as it sounds!
---
FREE VECTOR FASHION TEMPLATES: LATEST NEWS
3/23/15: New front view fashion figure takes the runway – checkout our latest Fashion Croqui Template!
2/27/15: NEW Free Croqui Template! Check out this new female figure template!
12/19/14: NEW PRODUCT! Mens Fashion Flat Sketch Templates are finally here! Get yours now!
12/15/14: New Female Fashion Figure Croquis !
11/24/14: New Male Croqui Fashion Illustration Template!
11/12/14: Here's another fabulous New back view Plus Size Fashion Figure Template for our Plus Size designers!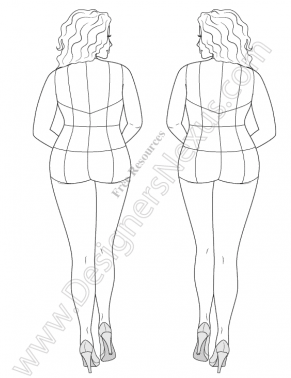 11/6/14: New back view Plus Size Croqui just added!
10/28/14: Catch this new fashion illustration template doin' her strut!
10/21/14: Brand new back view female croqui coming through!
10/20/14: Our MyPracticalSkills.com store is now back up & running! Thanks again for your patience!
10/14/14: Create a dynamic portfolio layout with the fun new Fashion Figure Template!
10/9/14: If you've tried registering as a member over the past couple weeks and haven't yet gotten a verification email, check your inbox (or junk box) now. We apologize for the delay!
10/8/14: New female fashion croqui template just added!
9/30/14: Make way for this new fashion figure template just added to our Male Croquis section!
9/24/14: New croqui template for your fashion illustrations!
9/15/14: Let your designs stand out with this bold new Fashion Figure Template!
9/4/14: Check out this fierce new Female Croqui!
8/21/14: New Fashion Croqui! Female ¾ Front View pose
8/15/14: NEW Free Kids Croqui – Girls Fashion Figure Template– download now!
8/8/14: If you've purchased our "Fashion Sketch Templates" (womenswear) or "Adobe Illustrator for the Fashion Industry eBook", check your email to get your free download of our revised Quick Live Paint Tutorial to fill flat sketches more easily and with better results!
8/1/14: It's finally here! NEW Kidswear Fashion Sketch Templates now available!
7/28/14: NEW Boy croqui template in Kids Croquis section!
7-23-14: New overalls fashion flat sketch added to Pants section!
7-23-14: Free graphics added to Tattoo/Heraldic section
7-18-14: UPDATE: MyPracticalSkills is back up!! Thanks again for your patience!
7-14-14: New side view fashion croqui!
7-7-14: New ¾ View Female Croqui Fashion Figure Template!
6-25-14: NEW Draped dress vector fashion sketch template!
6-21-14: More Free Flat Drawings in Men's, Skirts, & Dresses
6-16-14: New Skirt Flats & Coat Flat sketches added!
6-4-14: Follow us on our new LinkedIn Showcase page!
6-2-14: 2 New Female Fashion Croquis Templates added!
5-24-14: Tons of New updates added to our Free Graphics Downloads section! New graphics added to every category with more coming soon!
4-13-14:NEW SECTION! Introducing Knits & Sweater Sketches to our Free Fashion Flat Sketches section! Check out the free knitwear sketches just added!
Please Note:  The new site design and update are still in progress, so please pardon our appearance and bear with us while we work out all the kinks and finish getting all of our downloads and content back on the site. Thank you for your patience!
---
All fashion templates, articles, products, etc. on DesignersNexus.com are our ORIGINAL work, and not copied from any other site or source. You may see our templates (illegally) for download on other sites – however designersnexus.com remains the ONLY place where you can get the genuine, highest quality downloads of our templates.  
We created all of our Free professional fashion templates specifically for the fashion design community to use in personal, commercial, & educational design projects. However, our downloads CANNOT be redistributed (free or paid) as templates/downloads etc. in print or web. If you wish to share our templates on your site/blog, please use the watermarked preview images and give credit/link back to our site, or use the Social Share icons next to each download. See our Terms of Service for more details. THANK YOU!